Started in 2012, US Alternators has partnered with companies that have engineering roots that date back to the early 1920s. We strive to provide top notch customer support while providing a reliable alternator solution that performs day in and day out.
Office Address
US Alternators LLC
43311 Joy Rd. #184
Canton, MI 48187
Business Hours
Monday-Friday: 9am-5pm EST
Saturday-Sunday: Closed
Holidays: Closed
We take pride in the exceptional support and experience we provide to everyone we interact with. If you have any other questions that can't be answered here, please email sales@usalternators.com directly or call us at 734-237-8442.
RETURN POLICY
US Alternators products are built to order, and are non-refundable. New and unused US Alternators products in the original packaging may be returned within 15 business days of purchase on an exchange basis only for non custom units. This means if the unit was custom ordered, custom colored or contains any of our custom upgrades, it will not be exchangeable or returnable. Please email sales@usalternators.com to obtain an RMA number before returning any products.
For PCM Module products only, you may return the PCM module within 30 days of purchase for any reason. The module must be in new, unused condition with original packaging and all wiring harness. The return will be subject to a 20% restocking fee. You must ship unit back to us at your cost. We recommend insuring the returned item in case of loss or damage. US Alternators is not responsible for the item if it gets lost or damaged in shipping to us. Once received, US Alternators LLC will inspect the PCM Module to ensure it was returned in new, unused condition. Within 7 business days, US Alternators will refund the original payment method for the full amount minus the 20% restocking fee if all return conditions are met. 
TERMS AND CONDITIONS
Please note that your warranty period starts on the date printed on your invoice. By purchasing this product you agree to the terms and conditions stated below and in US Alternators limited warranty. This warranty is valid only within the territory of the United States of America. To be covered by this warranty the US Alternators product concerned must have been originally purchased, and the person seeking warranty service must reside in one of fifty states of the United States of America or the District of Columbia. The responsibility of US Alternators under this warranty shall be limited to the repair or replacement of defective US Alternator products by sole discretion of US Alternators. In no event shall US Alternators be liable for any direct, indirect, punitive, incidental, special consequential damages, to property or life, whatsoever arising out of or connected with the use or misuse of our products. In states that do not allow the exclusion or limitation of incidental or consequential damages, the above limitation or exclusion may not apply to you. This limited warranty is valid only with respect to repairs affected by US Alternators. All warranties, other than the express warranty herein contained, including, but not limited to, any implied warranty of merchantability or fitness for a particular purpose are limited in duration to the applicable warranty period set forth above.
LIMITED PRODUCT WARRANTY
US Alternators offers a one year, limited product warranty. US Alternators agrees to repair or replace, at our discretion and expense, all US Alternators products which are defective in material and/ or workmanship for the period of one year from date of purchase. This warranty is non-transferable and applies only to the original purchaser of the product. The customer must include a copy of the original invoice when sending in their alternator or product in order to receive warranty service. This limited warranty does not cover other parts or equipment on the vehicle, and does not cover labor for removal or installation of the product. This warranty is VOID if the US Alternators product is modified, physically abused, misused, improperly installed, or not used in the application for which it was designed. Units that are burned up due to excessive load will not be warranted. US Alternators limited warranty does not apply to defects or damage caused by accident, improper installation, plain old abuse, fire, flood, lightning, or other acts of God. US Alternators limited warranty does not cover accessories attached to or to be used with US Alternator products and does not cover products that have their serial numbers removed. US Alternators limited warranty does not cover adjustments or alterations required for compatibility with conditions prevailing domestically or in foreign countries. US Alternators limited warranty does not cover items subject to fatigue through normal wear and use and does not cover product which has been altered or repaired by anyone other than US Alternators. Warranty is subject to inspection by US Alternators. Damage caused during shipping or handling from customer to US Alternators facility is not covered by the US Alternators limited warranty. These claims are made with the freight company. The customer is responsible for shipping the alternator to the US Alternators facility for warranty service. Warranty units are shipped FOB Destination. US Alternators will pay return shipping back to the customer for all valid warranty claims.
WARRANTY INFORMATION
Some states do not allow limitations on length of an implied warranty. This warranty provides you with specific legal rights. You may also have other rights, which may vary, from state to state. Our policy enables US Alternators to receive defective components so our Research and Development team can research problems as they arise in order to eliminate them in the future. US Alternators takes steps to improve the performance and endurance of its product, which can only be done at our facility. When the unit is received by US Alternators it is completely serviced, including replacing any necessary components. All parts are checked to insure no other part has been affected which could create other avoidable future problems.
REPAIR INFORMATION
In the event that your US Alternator product needs to get shipped in for service, you will need to obtain an RMA number. To obtain this number, please email sales@usalternators.com. Please include complete year, make, model and engine size of the vehicle along with the original invoice number or alternator serial number in the email. Please be sure to also state the nature of the problem in detail so we can expedite your service. You will be given an RMA number and shipping address upon RMA approval. Write the RMA number on the outside of the package being returned. Product will not be accepted without an RMA number. If product serviced was not covered under warranty then an estimate for the repairs will be given & payment must be made in advance before repair work begins. All unclaimed product, or product on unpaid service orders will become property of US Alternators after 90 days.
SHIPPING TO US ALTERNATORS
Write the RMA number on the outside of the package being returned. Product will not be accepted without an RMA number.
Secure the product in its original packaging, which includes both the box and the foam insulating material.
Include the original invoice you received with your initial purchase or a statement containing the following information with the product to be returned: Customer name, address and phone number, RMA number and a description of the problem or reason for return, Invoice # or other proof of purchase.
You are responsible for all shipping arrangements and charges. US Alternators suggests you insure the package being returned.
No COD will be accepted.
All return shipping charges for US Alternators products that have been serviced under this limited warranty will be paid by US Alternators, and we will insure the package on its return.
If special handling for the return shipping is requested, US Alternators will deduct regular UPS ground from the charges if the product has been serviced under this warranty.
The service evaluation and repair estimate process will begin when product is received. This includes opening up alternators, bench testing alternators, bench testing any other product, and disposal of any non-usable (non-factory) packaging.
When a product is sent to US Alternators for service it is assumed that the customer has read and fully understands the US Alternators limited warranty policy. If you have any questions regarding this policy please contact US Alternators online at sales@usalternators.com.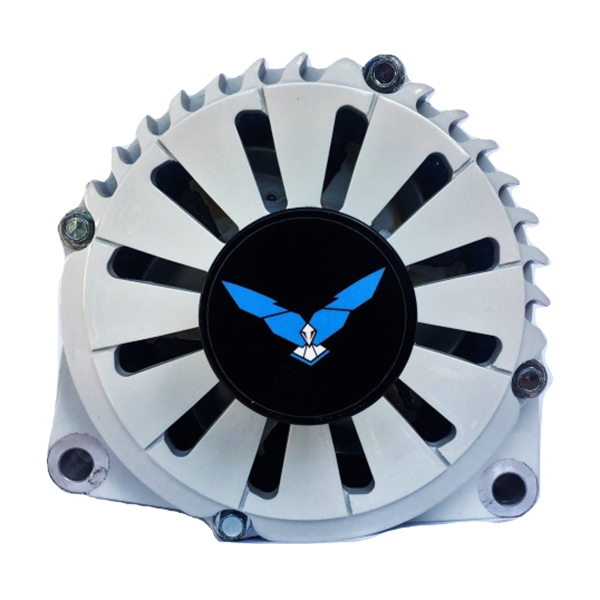 All HOT max ratings are measured at 6,000 alternator RPM, which is roughly 2,000 engine RPM depending on the vehicle's pulley ratio.
All HOT idle ratings are measured at 1,800 alternator RPM, which is roughly 600 engine RPM depending on the vehicle's pulley ratio.
This idle rating covers 99% of vehicles made and more than likely, you will see higher ratings than we have posted.
Most ratios are around 3:1 (6″ diameter crankshaft and 2″ diameter pulley).
To find your vehicle-specific pulley ratio and rough estimate of alternator output power at a given engine speed, use the following formula:
Crankshaft Pulley Diameter / Alternator Pulley Diameter = Pulley Ratio
Pulley Ratio * Engine RPM = Alternator RPM
These ratings are much lower than our competitors who rate their alternators at an idle speed of 2,500 alternator RPM and a peak speed of 8,000 alternator RPM; equaling 833 idle engine RPM and 2,667 engine RPM.
Location
US Alternators LLC
43311 Joy Rd. #184
Canton, MI 48187
Email
sales@usalternators.com